If you'd like to share some kind words and smiles, please ask our front desk staff for a comment card at your next appointment. We'd love to hear about your experience.
What a neat, kid-friendly environment! The staff is very helpful, genuinely happy to be there, and happy to see us. Dr. Johnson is great at explaining what he is doing, what needs to be done in the future, and seems to have a genuine care and concern for his patients. Overall, we have had a very pleasant experience and would recommend them to anyone!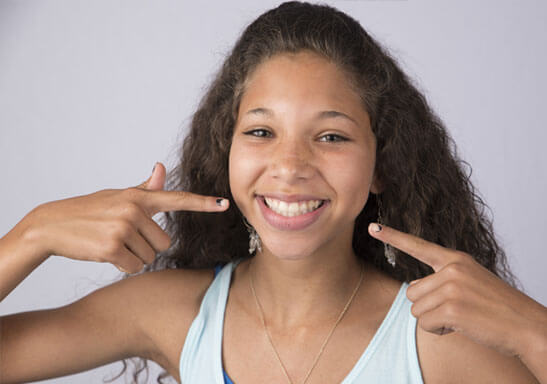 The staff is extremely warm and patient. I can tell that this is not only their job, but that they truly care about their patients. Thank you for a great experience!
I'm turning 40 this month. I want my teeth to fi nally be straight. Dr. Johnson has listened to my concerns and lets me know how he is going to fix a problem area. I value his knowledge so much. It has been a great journey and to top it off , I got to experience it with my daughter!
OUTSTANDING SERVICE, STAFF & FACILITY!!! Our experience with Chad Johnson Orthodontics has surpassed our expectations. You couldn't ask for a more friendly, knowledgeable, professional, and compassionate group of individuals. Any anxiety or concerns my daughter had prior to her first visit were soon alleviated. Chad Johnson Orthodontics has everything covered; ease of making appointments, schedules running ON TIME :), kid friendly waiting areas, immaculate examination/treatment rooms and some of the most personable staff you will ever meet. Would highly recommend this practice to everyone!
Always a great experience. My 11yr old son first meet Dr. Johnson when he was filling in for our regular dentist. She referred us back to him when it was ready to start the journey toward braces. He was great with my son who was nine at the time. He gave us a plan with options and didn't force us to make immediate decisions. Teeth were pulled and spacers placed. He continues to monitor him every six months for changes. My son feels very comfortable during the visits and always feels good when he leaves for the praises the entire staff give him for taking care of his spacers. The staff is always flexible with appointment scheduling and I love the early hours so he doesn't miss school. I recommend Dr. Johnson to everyone!
We had consultations with 3 other orthodontists and we chose Dr. Chad Johnson.With each consultation we were left with questions and concerns regarding the correct treatment for our son who is missing several permanent teeth until we saw Dr. Johnson. He knew right off what options we had and took the time to fully explain his recommended treatment plan to us. The price for treatment was right along with the other quotes we received but with Dr. Johnson's office, the quality of care offered as well as his attention to every little detail can't be found anywhere else. With a competitive price for our son's treatment combined with the quality of care we receive from Dr. Johnson, I feel like we are getting a lobster for the price of a hamburger! It is also good to know that I don't have to search for a great orthodontist for my other two children because we trust Dr. Johnson to handle their smiles as well. We cannot thank Dr. Johnson and his staff enough for making braces a pleasant experience for our family.
Being an adult with braces is not easy, but Dr. Johnson and his awesome team have made this experience as smooth and effortless as possible! From the moment you walk into the office, you are treated like they truly care about you and your teeth. They make it easy for a business professional to get in and out quickly and still feel like you were cared for properly. They are friendly, knowledgeable, and definitely at the top of their game!
FANTASTIC ORTHODONTIST! From the very first visit, the consultation, to the scheduled and unscheduled appointments, the experience at Chad Johnson Orthodontics has been fantastic! The facility, staff, and of course, Dr. Johnson, are top notch. I highly recommend Chad Johnson Orthodontics.
I have been a patient of Dr. Johnson since June. The staff is very welcoming. He takes the time to explain procedures and options. I'm an adult patient having braces for the 2nd time around. He has been very understanding and accommodating. They are willing to work with us. When my children are ready, they will be patients there too.
This is my second daughter to have braces, and my 1st child to go to Chad Johnson Orthodontics. We love Dr. Chad!! What a difference. With my previous orthodontist I did not feel the same amount of personal service and caring. Everyone on the staff is friendly. You are always greeted with a smile. Fun contests, like guess how many jellybeans, and being awarded brace bucks for good oral hygiene. Mrs. Johnson even hand delivered a prize my daughter had won because we were anxious to receive it! That is above and beyond service! I would highly recommend Dr. Johnson over any other orthodontist. It is also wonderful that he does support the Harrisburg community. Convenience, great hours, you can't go wrong!
I felt positive about Chad Johnson Orthodontics the moment we walked in the door.This feeling was reinforced with each encounter we had with various staff. When we met Chad Johnson for the initial consult; it was wonderful! There was no pressure; we weren't simply a $$ sign to them. They didn't act like any of our questions were dumb…they actually encouraged the questions and were more than happy to answer them. Most importantly, they made my daughter feel good about herself and reassured her that her smile is beautiful even before the braces. Chad Johnson and his staff care about their patients and what they do…and it shows! 🙂
Don't Be Shy. Get In Touch.
The first step toward achieving a beautiful, healthy smile is to schedule an appointment.