At Chad Johnson Orthodontics, your smile is our passion. Our orthodontists provide you with the best care possible in CITY_NAME, all from a stress-free, comfortable setting. We know how much of a difference a beautiful smile can make, which is why we are so passionate about giving our clients a smile they love forever.
Having served metro CITY_NAME for years, we know that no two patients have the same orthodontic needs. That's why we offer a variety of treatment options to correct each patient's unique concerns, along with payment plans that make braces affordable for every family. You can rest easy knowing that our team specializes in the latest innovations in the field of orthodontics. This allows us to treat our patients in the most efficient, affordable, and aesthetically pleasing ways possible.
A few of our orthodontic treatment options in CITY_NAME include:
Invisalign®
Invisalign® Teen
Clear Braces
Traditional Braces
Early Treatment
Adult Treatment
If you're looking for an orthodontist in CITY_NAME, STATE_NAME, who is professional, trustworthy, and compassionate, look no further than Chad Johnson Orthodontics. Your pathway to a beautiful smile starts by choosing the treatment options best for your lifestyle.
Invisalign Treatment in CITY_NAME, STATE_NAME
Over the last few years, Invisalign has become one of the most effective and popular orthodontic treatments in North Carolina. If you're looking for a comfortable, convenient, and discreet way to realign your teeth, Invisalign should be at the top of your list.
What Is Invisalign?
Invisalign is a treatment used by the best orthodontists in CITY_NAME. It straightens patients' teeth without the metal components of traditional braces. Invisalign works by using a variety of custom trays that cover your teeth. These trays gently pull your teeth into proper alignment over time. Each custom tray brings your teeth closer to their final position, resulting in a beautiful smile. Unlike braces, treatment times typically don't exceed two years. Once treatment is complete, you may need a retainer to maintain your new, healthy teeth alignment.
Since they are clear, most patients find Invisalign less noticeable than traditional braces. Unlike metal braces, you can remove Invisalign trays while eating. That way, you don't have to worry about damaging your investment with certain foods like chewing gum. And unlike metal braces, Invisalign options are popular with people of all ages, from teens to adults.
Invisalign works well for patients who have:
Spaced or gapped teeth
Crooked teeth
Overcrowded teeth
Underbites, crossbites, and overbites
How Does Invisalign Work?
For most patients, Invisalign involves a streamlined, three-step process:
1

Initial Consultation – You consult with your Invisalign orthodontist in CITY_NAME, STATE_NAME. During this meeting, your doctor will take a 3D digital scan of your teeth. Once complete, they will create a custom, comprehensive treatment plan to achieve your goals. The best part? Before you leave, they will give you a sneak peek at what your new smile will look like.

2

First Fitting – After your Invisalign consultation at Chad Johnson Orthodontics, we will make sure your custom aligners fit properly. If you have any questions, your first fitting is a great time to ask. Before you leave, your doctor will let you know what to expect in the coming weeks and months. Treatment completion times will vary, but many patients see results in only a few weeks. During this time frame, you will check in with your orthodontist regularly.

3

Love Your Smile – Once your Invisalign treatment is finished, it's time to show off your shiny new smile to friends, family, and loved ones! Before you wrap up treatment, ask your orthodontist if you need to use a retainer to maintain your newly straightened teeth. After all, the last thing you want is for your teeth to shift gradually back into their original positions.
Invisalign vs. Traditional Braces – Which is Right for You?
With so many innovating teeth straightening options in North Carolina, it can be hard to settle on the best treatment choice for your needs. At Chad Johnson Orthodontics, one of our most asked questions usually involves which treatment is better: traditional braces or Invisalign? Since every patient has different goals and needs, that question isn't always easy to answer.
A younger patient with slightly crooked teeth might benefit from the discreet features of Invisalign. Conversely, an older patient with a severe underbite might benefit more from the reliability of traditional braces.
Keep in mind the following points, which will give you a great knowledge base for orthodontic consultation: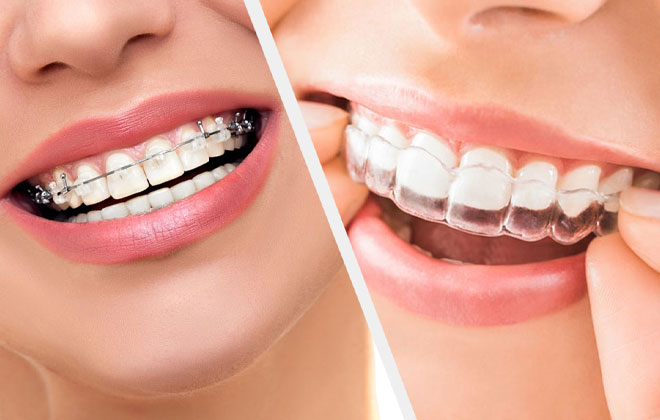 Are They Removable? Invisalign trays can be removed. Traditional braces cannon.

Treatment Length: Invisalign treatment can last from six months to two years. Treatment times for traditional braces usually last from one to three years. Each time frame can vary depending on the severity of the patient's teeth problems.

Orthodontic Visits: With Invisalign, patients visit their Invisalign dentist in CITY_NAME, STATE_NAME, every three months. Patients can expect to visit every month or every other month when choosing metal braces.

Cleaning: Regular brushing and flossing is recommended for Invisalign patients. A specialized floss threading tool and regular brushing and flossing are recommended for patients with traditional braces.

Benefits: Invisalign is comfortable and discreet. Because trays are removable, there are no food restrictions involved. Traditional braces offer consistent progress, are effective for severe cases, have great reliability, and can be the best choice for patients who are sticking to a strict budget.
Ready to learn more about Invisalign from Chad Johnson Orthodontics? Our knowledgeable customer service team is ready and waiting to answer your questions. When you're ready to move forward, we'll get you scheduled for your first consultation. Before you know it, you'll be fitted for Invisalign and on your way to earning a gorgeous smile.
Adult Orthodontic Treatment in CITY_NAME, STATE_NAME
Are you craving a beautiful smile but feel like the time has passed for metal braces? You wouldn't be the first adult to ask that question, and you won't be the last. However, the truth is that roughly 25% of our orthodontic patients are adults, not children. At Chad Johnson Orthodontics, you're never too old for braces!
We want you to know that a stunning, healthy smile is attainable no matter how many birthdays you've had. Our orthodontist in CITY_NAME, STATE_NAME, offers braces that are perfect for busy working adults. If you decide that adult braces are the way to go, you have plenty of options to consider.
From traditional metal braces that offer reliable results to more popular Invisalign treatments, a new smile is more attainable than you might imagine. During your initial visit at Chad Johnson Orthodontics, your doctor will review all of your treatment options and help you choose a plan best suited to your needs.
Benefits of Adult Braces
Just about everybody understands that a straighter smile is more appealing aesthetically than having unhealthy teeth. However, not everyone knows that properly aligned teeth actually improve your overall oral health. Here are just a few reasons why so many adults in CITY_NAME are changing the way they think about using adult braces:

Better Oral Health: When you have bad oral hygiene, there are a number of concerning health risks to consider. Misaligned teeth can cause bacteria to build up. Over time, harmful bacteria wreak havoc on your teeth, creating problems like tooth decay, cavities, and gum disease. Thankfully, orthodontic treatments are available that can help avoid severe tooth decay, gum recession, and bone loss. You can even reduce and prevent irregular tooth enamel loss stemming from TMD and TMJ.

More Confidence: If you're feeling self-conscious about how your teeth look, you're the only one. Millions of Americans aren't happy with their oral aesthetics. Luckily, adult braces help restore confidence and can give you a smile you're proud to show off. Studies show that when you like the way your teeth look, you'll be more likely to smile. This simple act reduces stress, makes you feel happier, and can even improve your mental health. Plus, it makes people around you feel great too!

Enjoy More Foods: If you have never had serious oral issues, you might not know that eating can be painful with misaligned teeth. Adult braces can straighten your teeth and correct under and overbites for patients with severely crooked or crowded teeth. When you don't have to worry about painful chewing or biting, life is better, and you can enjoy the experience of eating any delicious meal you'd like.

Less Bad Breath: Few things are nastier than someone talking to you with bad breath. We've all been there, but it is never any less embarrassing when someone tries to subtlety offer you a mint. What most folks don't know is that misaligned teeth and bad breath go hand-in-hand. When your teeth are overcrowded or crooked, bacteria find their way between your teeth where toothbrushes can't reach. Over time, that bacteria builds up, and your breath begins to smell. When left unchecked, these bacteria can cause serious oral health problems.

Improved Speech: Having crooked teeth can make you feel self-conscious about your appearance. Unfortunately, they can also affect your day-to-day speech. If you're having problems pronouncing words because your teeth are severely misaligned, adult braces can legitimately change your life. This fact is especially true for working professionals who take part in Zoom calls, speak publicly, or work over the phone. If this sounds like you, speak to our trusted Invisalign orthodontist in CITY_NAME, STATE_NAME, about discreet ways to improve your speech and oral health at the same time.
Early Orthodontic Treatment
Your child's early and teen years are a great time to consider braces. According to The American Association of Orthodontists, the best time for a child to have their first orthodontic treatment is by seven. With early orthodontic treatment, you have the chance to find and correct oral issues before they become more serious. Doing so gives your child a leg-up on other kids their age while saving you time and money in the long run.
The primary goal of early orthodontic treatments is to:
Spot the possible oral issue
Eliminate the cause
Oversee jaw and facial growth
Ensure adult teeth develop properly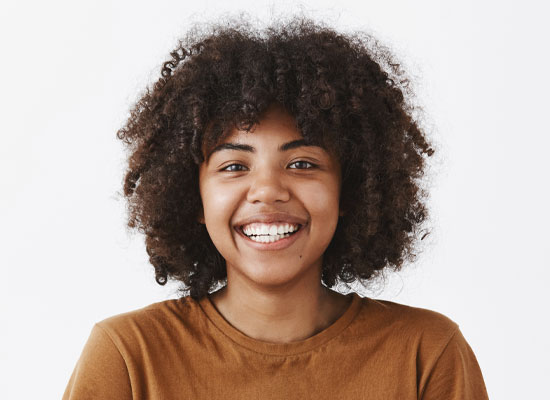 Depending on how your child's teeth develop, they may need additional orthodontic care after their permanent teeth have formed.
A few common orthodontic problems that may require treatment for children include:
Excessively spaced teeth
Extra teeth
Missing teeth
Extremely crowded teeth
Teeth that do not meet properly or don't meet at all
Pacifier, finger, or thumb-sucking that affects your child's jaw or teeth growth
Underbites – this occurs when your child's front lower teeth are ahead of their front upper teeth.
Crossbites – this happens when your child's jaw shifts to one side.
The best way to learn whether your child will need early treatment is to consult with your orthodontist in CITY_NAME, STATE_NAME. Dr. Johnson, Dr. Martin C. Avey, Dr. Alexandra D. Best, and Dr. Neal Patel are all highly trained to spot subtle problems, even in children under ten. During your child's initial consultation, you can expect one of three outcomes:
There is a problem that child braces may correct while your child is younger.
Treatment may be necessary in the future. Our team will keep an eye on your child's oral health each time they visit.
There is no treatment necessary at this age
If early orthodontic treatment is needed, we will create a personalized treatment plan for your child so you know exactly what lies ahead.
Brace Yourself for an Amazing Smile with Chad Johnson Orthodontics
Our orthodontic practice in CITY_NAME does things a little differently than others. Our doctors want to get to know you, your family, and your oral health goals. With more than 30 years of combined experience, we know that each smile our doctors help create is as unique as the person it belongs to.
That's why our practice offers several orthodontic solutions customized to your individual orthodontic needs. If you're a new patient, we know you probably have important questions that need answers. That's why new patients always receive a complimentary orthodontic consultation, so you can learn about the best treatment options for your budget and lifestyle.
At the end of the day, our goal is to make access to orthodontic treatment as available, effective, and easy as possible. Come experience why so many children, teens, and adults trust Chad Johnson Orthodontics with their oral health needs. We'd love to get to know you and your smile better today!
What Client Say About Us
Orthodontist for Jason Davis
Great doctors and staff! Highly recommend!!!
Orthodontist for Jennifer Devalk
Chad Johnson and his staff are the best! Hands down the best orthodontist office in the Charlotte area!
Orthodontist for Sarah Baldwin
Everyone here has been super friendly, welcoming, and very educative. I leave each visit well informed and confident. They are amazing!
Orthodontist for Castellonpartyof4 Vlogs
This place is the best im so grateful for the work ethic ,kindness and dedication of the entire team dr. Chad J goes above and beyond every time . Thanks you lianna for explaining everything and for being so sweet with my little girl
Orthodontist for Stephanie Clapper
My son has been a patient at the Harrisburg office for a little over a year and half. Our experiences during that time have been nothing short of exceptional. The front desk staff is wonderful and pleasant, always able to get us in quickly or reschedule an appointment, when needed. The same can be said about all the staff at CJO. From the first consult to the very last visit, every person we have interacted with has been incredibly friendly and professional. Dr. Johnson and his staff did a beautiful job perfecting my son's smile. We will absolutely be back when the time comes for our other children to get braces. Thanks Dr. Johnson and team! ????
Orthodontist for Charittie Taylor
It was very good and I loved the lady who did my pictures for my teeth! She's very sweet.
Orthodontist for Lindsay Smith
Two out of three of my kids are in braces and Chad Johnson Orthodontics has been wonderful for them! They are always so helpful and available when we need them!
Orthodontist for Amanda Crowe
We love Dr. Johnson and his staff! They go above and beyond to help their patients. I highly recommend them!
I love being a patient at iSmile Orthodontics! Dr Johnson and Dr Danze are wonderful and every single staff person has been amazing to work with! Appointments are always on time and everyone is friendly and professional.
Orthodontist for Samantha Blum
Everyone at this office is so friendly and kind! You definitely don't feel judged here and they support you with every step and question! Lianna, Tina, and Dr. D are my faves!
Orthodontist for Nichole Crudup
The office is clean and everyone is super helpful. I highly recommend Chad Johnson Orthodontics!
Orthodontist for Nichole Crudup
The office is clean and everyone is super helpful. I highly recommend Chad Johnson Orthodontics!
Orthodontist for Panna Patel
The entire office is friendly & Caring and makes the entire process easy and comfortable. Very knowledgeable and helpful with plans of action.
Orthodontist for Josiefe Demattos
Very accommodating especially for Ceci she is very helpful in addressing my concerns.
Orthodontist for Megan Hollaway
I absolutely love this office. The staff is so professional and friendly. My child is very comfortable with talking with the staff. I highly recommend this orthodontist office.
Orthodontist for Dena Ziglar
Very professional, thorough and kind to my daughter. Would definitely recommend to anyone who is looking to improve their smile.
Orthodontist for Heidi Lee
Fantastic staff and beautiful office! Our consultation was so helpful and thorough. The treatment sessions have been quick and easy. The staff follows up with you and really cares about your progress!
Orthodontist for Onii Bivens
Cecilia was nice and explained everything to me proficiently. She saved me the hassle of having to come back on a later date after driving an hour to the office.
Orthodontist for Valentina Moratinos
Karen very was very nice and explained everything very carefully.
Orthodontist for Debbie Wilson
Friendly, knowledgeable and capable! They go out of their way to explain everything in detail so you are super comfortable when you leave the office and know how to keep progress moving forward!
Orthodontist for Dianne Wynne
Nicest people for orthodontic work. Always helpful....even years after braces for new retainers.
Orthodontist for Anna Croft
Great atmosphere and people. Karen was so nice and explained everything. that she was doing. This is always helpful in easing fears. We love chad Johnson orthodontics.
Orthodontist for Mike Gerdes
Great people and service!
Orthodontist for Amanda Derrick
McKenzie loves going to the orthodontist! We have never had a bad experience there! Today she got her braces taken off! The ladies there are super sweet and gentle! Best orthodontist ever!!
Orthodontist for Cheryl Kissiah
Great team. Very friendly and helped out after my son got his braces on yesterday. I highly recommended them.